Ronnie L. De La Cruz Biography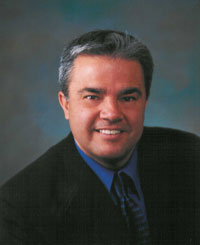 Ronnie L. De La Cruz
De La Cruz Consulting & Training
405 Homestead Avenue
Salinas, California 93901
831-229-3970
ronnied@ultimanet.com
www.producebootcamp.com
Mr. De La Cruz provides industry talks, consulting, and training services for the breadth of the Fresh Produce supply and distribution channel through to retail and foodservice market segments.  The hallmark of Mr. De La Cruz' work is a high energy, highly interactive style geared at imparting "Real-world know-how" to his audience & trainees.  He creates turn-key talks and training material based on the diverse needs of his audience, and then imparts that training in a highly motivational manner. 
            Areas Of Expertise: Mr. De La Cruz works with the full range of the supply channel from seed companies looking at bringing new varieties to market, to grower/shippers on a range of issues from post-harvest technology, quality and handling, to sales and marketing restructure and strategies - all the way to consumers.  Mr. De La Cruz works with companies in helping to assess new business venture opportunities and strategic business partnerships and acquisitions.  He also guides companies in either the development of long tern strategic plans, or in assisting in the implementation of new go-to-market strategies.  He provides extensive training to both U.S. and foreign grower/shipper organizations on product standardization, and sales and marketing techniques.  Mr. De La Cruz also works with large retail chains in helping them capitalize on consumer trends and competitive differentiation strategies within their market areas.  Mr. De La Cruz also provides training on the latest sales and merchandising techniques for the retail produce department, as well as shrink reduction strategies.  Mr. De La Cruz also works extensively within the Foodservice sector, training Distributor sales reps on how to increase their fresh produce sales.  Additionally, he works with Chain Restaurant groups, school foodservice and healthcare on proper purchasing, receiving and handling techniques to reduce fresh produce related shrink and increase the quality of produce served to their guests and students.
            International Experience & Recognition: Mr. De La Cruz provides "State-of-the-industry talks", consulting and training in an array of countries around the world.  He has worked with the Ministries of Agriculture in both Spain and Italy as they prepared their Fresh Produce sector to compete in the emerging European Union.  Much of this work involved increasing the post-harvest quality and pack standards.  Mr. De La Cruz also assists and guides developing nations in the development of their fresh produce industry infrastructure, as well as with the development of their export markets of fresh fruits and vegetables.  He is also focused on guiding and helping the grower community better structure themselves to meet the higher level sales and marketing needs of their new market place.  Additional examples would be, work with Central American melon growers on better understanding the product, and sales and support needs of the North American market place – a target market for the Central American growers. Work with South African growers on bringing new higher value products to market, such as the fresh-cut product segment, and more specialized crops, or standard crops in higher value packaging.  Mr. De La Cruz has provided talks from Canada to New Zealand – all aimed at increasing the quality, supply and profitability of the fresh produce industry!  
General Background Information:
Mr. De La Cruz holds a Masters Degree in Industrial Psychology from San Jose State University in California.
He has worked 20 years + in the fresh produce industry. 
Mr. De La Cruz was most recently Vice President of Training for PMA (The Produce Marketing Association)
In addition to consulting and training, he has served in roles such as Director of Training and Sales Support for Tanimura & Antle, one of the U.S.'s largest shippers of fresh vegetables including an entire line of Fresh cut produce.  Other roles have been Quality Assurance Manager for Monterey Mushrooms, one of the worlds leading grower/shippers of fresh and processed mushrooms, Director of Sales and Marketing for Fresh Western International.
Mr. De La Cruz works with grower/shippers, retailers, foodservice distributors and operators, as well as non-traditional fresh produce distribution channels.
Mr. De La Cruz also conducts numerous consumer focus groups to better understand current and future purchasing patterns related to fresh produce, and fresh cut produce specifically.
Ronnie has been a primary trainer to the U.S., and foreign countries and is noted throughout the trade press and literature.
Ronnie resides in Salinas, California and has homes in New York City, New York, and London, UK.
Please contact Ronnie for more information or a detailed proposal to meet your specific needs.  (Please see Ronnie's contact information at the top of page 1.)
(Click here to receive more detail or request a quote)